Saturday, May 18th 2019

Tigard High School - 9000 SW Durham Rd. Tigard, Oregon 97224
TYT Home Meet, May 18, 2019 (Athletic.net)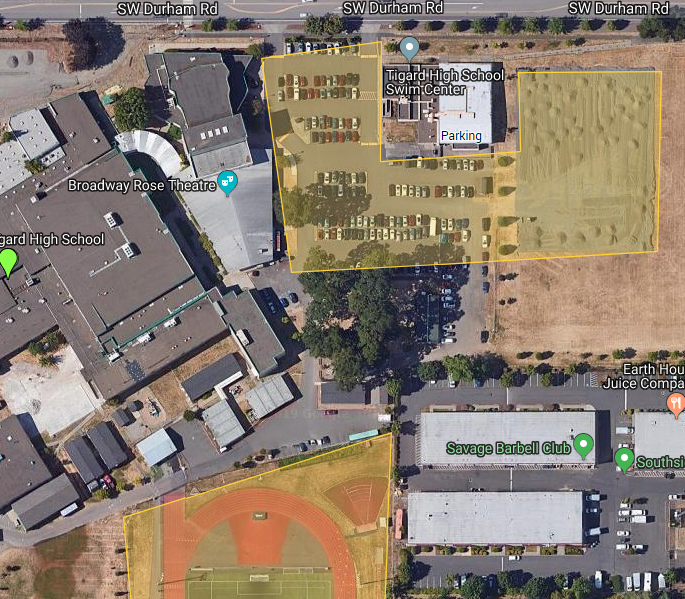 REGISTRATION PROCESS: All registration will be done through athletic.net. No 'day of' registration for track events. Club Administrators and Unattached Athletes should register online on athletic.net. Registration for this meet closes on Wednesday, May 15th at 7:00pm PST. No 'day of' registration available. Late entries will not be allowed. Accuracy of data entered is the responsibility of each club and/or athlete. Please validate data within Athletic.net for accuracy prior to submitting entry.
ENTRY FEE: $10 per athlete payable on athletic.net. Each athlete will get a hand stamp when they arrive. 
LOCATION: The track is located behind Tigard HS, enter by Tigard Swim Center and Broadway Rose Theater. 
WAIVER: Electronic on Athletic.net
TIMING: Timing will be electronic using FAT.
SCHEDULE: Full schedule can be found on here and the oregon.usatf.org/youth.aspx website.
CLERKING: Track events will be clerked in the middle of the field. Please have your athletes come sign in as early as possible when their event is called. (ONLY SEND DOWN THE AGE GROUP CALLED). Field event check-in will be handled at the field event. Please be there by last call to keep us on schedule. 
EVENT RESULTS: During competition, event results will be posted on the behind grandstands. Also, results will be posted on athletic.net after the completion of the event.
AWARDS: 1st-6th place ribbons will be handed out at the completion of each running event. Distance events will get their ribbons at the Ribbons/Results tent. Field event can pick up their awards at the Ribbons/Results tent 30 min AFTER the completion of the event.

TENTS: Tents will be allowed along the fence and around perimeter of the track. It can be very windy at Tigard so make sure if you set up a tent, you have weights to hold it down. Tents without weights will be asked to shut it down for the safety of everyone. 
WARM UP AREA: Will be on the turf. 
JAVELIN: Javelin will be on grass. Steel tip is fine. 11-12 will throw Aero Jav. Please bring implements to practice with. 
FOOD: Full concession stand available. Cash and card accepted.

NO DOGS allowed at the meet please
CONTACT INFORMATION:  Ryen Boyd  Phone Number: 503 730 9947  E-mail: tigardyouthtrackreg@gmail.com