Athlete Spotlight November 2017

Meet Logan Law

Age - 12

Logan Law joined Tigard Youth Track for the first time in 2017 competing in the 11-12 year old division. He competed in the following events: 800, 1500, 3000, High Jump and Pentathlon.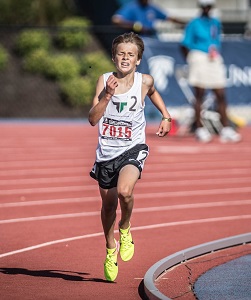 Logan's accomplishment in 2017 was outstanding where he qualified for Nationals in 4 events.  He went on to Nationals competing in 3 events and became an All-American in all 3 events.  For the 2018 season he will compete in the 13-14 year old division where he will face stiffer competition which will only further drive his passion for competing at the highest levels of Track & Field.

Here are a few of his Track and Field highlights:
1500 - Placed 1st at USATF Oregon and Region 13 while taking home the Bronze at Nationals with a PR time of 4:36
3000 - Placed 1st at USATF Oregon and Region 13 while taking home the Silver at Nationals with a time of 9:353 (0.4 seconds from the Gold!)
High Jump - Placed 4th at USATF Oregon and 3rd at Region 13 while taking home 8th at Nationals tying his PR of 4' 9'
Pentathlon - Placed 1st at USATF Oregon
Athlete Spotlight April 2013
Meet Christian Pumpelly
Age - 11
Christian Pumpelly joined Tigard Youth Track in 2009 as a second-year Sub Bantam. He runs the following track events: 100, 200, 400 and the 4x100 Relay.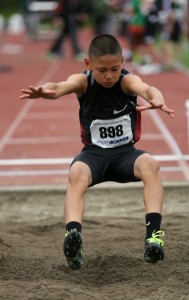 Christian also competes in the Long Jump (this is his favorite event)! He is now entering his 5th year as a second-year Midget and hopes to qualify for Nationals in multiple events.
Here are a few of his Track and Field highlights:
2009 - USATF Oregon J.O. Record Holder... 100m / 14.5 / 2009 Sub Bantam
2010 - National Qualifier for the 4x100 Relay
2011 - Placed #1 in the Region for Long Jump
2011 - Placed #7 at Nationals for Long Jump

Christian has an affinity for competition as his dream is to participate the collegiate level.
Athlete Spotlight November 2012
Meet Lauren Paven
Age - 12
Speed Demon, tough competitor, great sportsmanship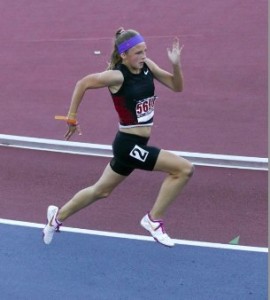 Lauren Paven "LP", a seventh grader, is entering her 3rd year as a member of TYT. Lauren is the current USATF 2012 Oregon state and Northwest regional champion in the 400 meters for her age group.
Her best time was 62.2 seconds. Lauren also finished in the top 5 at state and regionals in the 200 meters.
In addition, she and her teammates are the 4x100 meter relay state and regional champions. Lauren competed at the National Junior Olympics in the 400m, 200m and 4x100 m. She placed 19th in the country in the 400m and 28th in the 200m. Lauren also ran in a 200m exhibition race that took place at the USA Olympic track and field trials in Eugene.
Athlete Spotlight October 2012
Meet Spencer Kuffel
Age - 9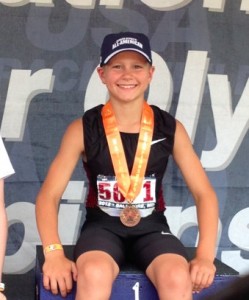 USATF Junior Olympic all-American in high jump
Recognized by Oregon USATF as Athlete of the Year 2012 in his age category
Also competed in 800 and 4x100 relay at Nationals
True champion